Tuscany has to be one of the most beautiful parts of Italy, as well as one of the most diverse. It combines the art and culture of Florence with the rugged beauty of the Apenine Mountains and the olive groves in the wine region of Chianti. Tuscany is stunning in so many different ways, and it is also a haven for those who love to shop, with designer outlets selling discounted labels all over the region. Clearly Tuscany is a fashion lovers dream, with beautiful scenery that cries out for your own personal style.
I was recently asked how I would describe Tuscan style, and I had to point to one of my favourite movies that not only captures the beauty of the Tuscany, but, in Diane Lane, has a style icon worthy of the area. 'Under the Tuscan Sun' is a gorgeous romance set and Diane's wardrobe is perfect for Tuscany, chic and stylish, but with a relaxed undertone of not trying too hard.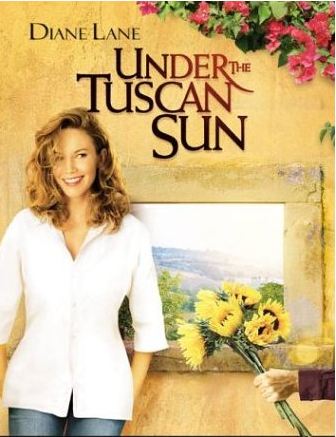 Diane's wardrobe perfectly reflects Tuscany. She opts for a lot of white, almost like creating a blank canvas for all the rich colours of the vibrant scenery. We all know that nothing is more stylish than a crisp white shirt worn with classic denim, and this is shown in the movie, as Diane leaves the jewellery and accessories behind.
But their are also knockout moments when the dresses hark back to the 1950s, full skirted, shirt waister styles that could've been borrowed from the wardrobe of Grace Kelly, or another lady who shone in an Italian set movie, Audrey Hepburn in Roman Holiday. The stunning white dress is so simple in its cut, but is a real echo of the sophistication that Tuscany has in spades.
Diane's Tuscan wardrobe contains a lot of white and this makes perfect sense when you are capturing Tuscan style, it's cool, crisp, always looks fresh, and looks fabulous with a suntan. Where colour is worn, it looks glorious when it reflects the buildings of the province, the burnt orange, deep rust and tangerine shades that echoes palazzo's and farmhouses that litter Tuscany.
Tuscany is a glorious area, and Tuscan style echoes that, combining sophistication with a carefree nature all of it's own.