designers
,
Duchess of Cambridge
,
fashion
,
High street
,
Kate Middleton
,
London
,
Royal family
,
S/S 2012
,
s/s 2012 fashion
,
style
,
Style Icons
Kate looks so beautiful in teal Jenny Packham
Ok – I admit it, this may be my favourite Duchess of Cambridge look ever. I said in a post I published about Jenny Packham yesterday that I felt she had been responsible for Kate's most successful evening look ever, the shimmering pink dress that the Duchess had worn to the Ark event last June,  but I actually think, for sheer beauty, this teal dream of a dress beats it.
Kate and Wills were attending a concert at the Royal Albert Hall to celebrate the UK Olympic team, and I don't think she could've chosen a more  perfect, and on trend dress. This lace and chiffon confection had a classical Greek style that celebrated the origins of the Olympics. And with pleats, waist embellishment and that so on trend lace back, this ticked all the boxes for those who want Kate to be more 'fashion'.Kate also changed her hairstyle, again maybe in response to those who wish to see her hair in a more elegant style.  This chignon has its roots in the styles worn by Victorian and Edwardian regal ladies and did look very beautiful and elegant. It also focused all attention on the lace and button detail of the back of the dress, Kate's usual long locks would have spoiled this dramatic look.
This dress is a Jenny Packham classic. Floaty, with a pleated skirt and waist embellishment, with tiny cap sleeves, this has all the features that Jenny has put into her High Street collaboration with Debenhams. I was shocked to see how close those similarities were. Granted, non of the luscious lace back detail, but the pleats, and beading work are all there.
Get  the Look – Teal dresses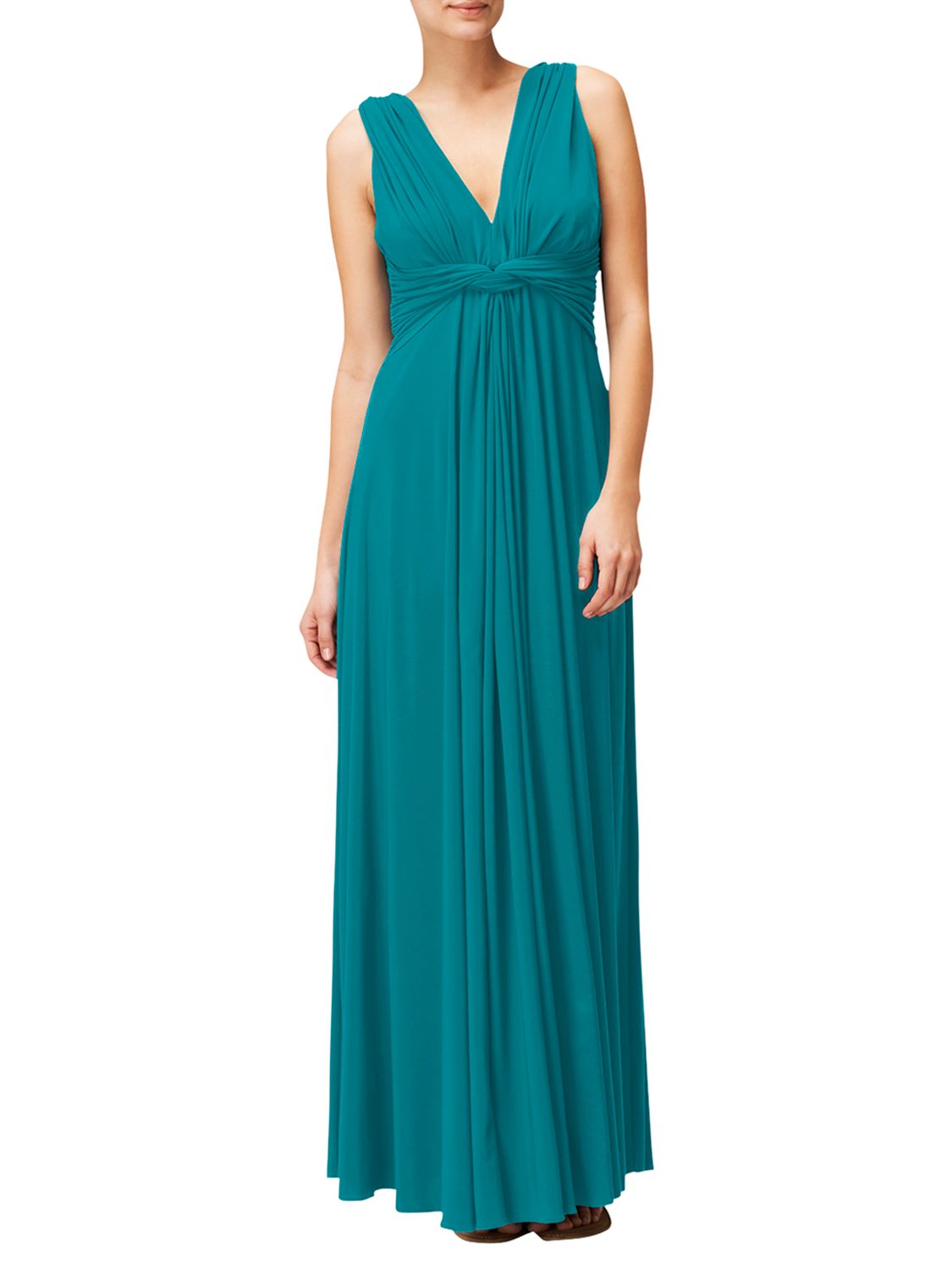 Paypal now available at JohnLewis.com
You may've noticed that one of the gorgeous dresses featured on today's post is from John Lewis. John Lewis has announced some great news regarding methods of Payment.  John Lewis has now fully integrated with PayPal. PayPal is a safe, simple and convenient way to pay online. All you need is your email address to make secure online payments using your nominated debit or credit card, bank account or Paypal balance. You only need to enter your financial details when you open your PayPal account, so you can make any subsequent online purchases with fewer clicks and in faster time. PayPal doesn't share your financial details with sellers, and your money and information stay safe with PayPal's industry-leading fraud protection tools.
To  visit johnlewis.com click here. Enjoy extra safe shopping!